Hit & Run Cases
With decades of experience and a track-record of favorable verdicts, you can rest easy knowing our attorneys have your best interest in mind.
St. Louis Hit-and-Run Accident Attorneys
Holding Reckless Drivers Accountable for Fleeing the Scene in Missouri
If you have been involved in an auto collision in which the other driver has fled the scene, then that accident is classified as a hit and run. This includes cases in which the driver stopped but left before providing their contact information. St. Louis drivers are required by state law to remain at the scene of an accident to exchange information with the other driver and render any aid that may be necessary. Failure to do so is punishable as a crime.
Highly Experienced St. Louis Hit and Run Lawyers
At Meyerkord & Kurth, we advocate for victims of hit-and-run accidents. Our St. Louis hit and attorneys know how devastating these cases are, especially since they leave the victim in a lurch—either with property damage, a serious injury, or the loss of a loved one. We will work to bring you justice and secure compensation.
Our team gives each case individualized attention, and each client one-on-one counsel and representation. We have over 100 years of experience, during which time we have cultivated a legacy of success. When you need help, turn to the law firm trusted by clients throughout Missouri and Illinois.
---
Call Meyerkord & Kurth at (800) 391-4318 for a free consultation with a St. Louis hit-and-run accident lawyer.
---
When Can You Sue for a Hit and Run?
Unfortunately, any traffic collision can turn into a hit and run. All it takes is for one party to leave the scene. Often, they do so to avoid criminal charges or because of sheer panic.
Common examples of hit-and-run accidents over which you can sue include:
Auto accidents where a driver flees without thinking
Drunk driving accidents where the driver flees the scene in order to avoid an arrest for DWI
Bicycle accidents where the bicyclist is directly struck by a vehicle
Bicycle accidents where the bicyclist is forced into an accident by the driving maneuvers of a motorist
Accidents involving being run off the road, even if there is no actual contact
Pedestrian accidents, such as where a pedestrian is struck by a vehicle
Motorcycle accidents, including accidents in which the motorcyclist is the victim as well as those in which they are the perpetrator
Meyerkord & Kurth takes on a variety of hit-and-run claims. If you were the victim of a hit and run, you likely have a right to compensation for medical expenses, pain and suffering, missed time from work, and more. The challenge will likely be figuring out where to get that compensation from.
---
Were you a victim of a hit and run accident? Don't hesitate to contact Meyerkord & Kurth to start fighting for the compensation you deserve.
---
Pursuing Compensation as a Hit-and-Run Victim in MO
In a regular traffic accident, the victim has the right to file a claim for damages with the driver's insurance company. In the aftermath of a hit and run, however, the at-fault driver would have to be identified for this to happen. This can be a tricky proposition, even if the driver is identified later by the police. Insurance companies will often try to deny claims, delay payment, or offer a much lower settlement than what the claimant's injuries call for.
It is important to contact a St. Louis hit-and-run accident attorney if you have been injured or bereaved, as we can provide the experience and skill necessary to negotiate with the insurance company. We can even take the case to court, if necessary, to fight for the compensation you deserve.
What to do After a Hit-and-Run Accident
While insurance companies will cover you in a hit-and-run claim, it's critical to find the person responsible for your hit-and-run accident for the best possible outcome. Here are some critical steps:
Call 911 - Contact the authorities immediately and explain that you've been involved in a hit-and-run accident. Give police as much detail as possible to start investigating and piece together the information to find the other driver.
Gather evidence: If you can, take pictures of the crash to show what the accident scene looks like and where your car was hit. If there were any witnesses, get their information so authorities can speak to them about what they saw.
Remember the Facts: It's understandable that being involved in a hit and run can be emotionally taxing. However, if you can, write down as much information and facts that you remember about the accident's details, while it's fresh in your mind.
Keep Medical Records: If you've been injured, keep your medical records handy, as well as start a journal of how you feel emotionally and physically after the accident.
Tools Police Use to Find Hit-and-Run Drivers
It may seem like all hope may be lost in finding the driver, but police have many tools that they can use to locate the individual. From surveillance cameras in the crash area to witnesses and the internet, there's a good chance that the responsible party will be brought to justice. If you are concerned about proceeding with an accident claim in a hit-and-run accident, learn your rights by contacting a car accident attorney.
Injured in a Hit and Run Accident? We Are Here For You.
Being involved in a car accident is a stressful experience — and when the other driver leaves you at the scene of the crash with severe injuries, it can be that much more devastating. Not knowing how you will pay for medical bills and treatment expenses after a hit and run is a scary scenario. Know that you are not alone, and Meyerkord & Kurth is here to help. When going through a difficult time, our team of experienced attorneys is here to support you through the process.
---
Contact Meyerkord & Kurth today at (800) 391-4318 to learn more about recovering compensation for your injuries.
---
What If the Hit-and-Run Driver Is Never Identified?
If the hit-and-run driver is never identified, there may be the option to recover compensation through your own uninsured motorist coverage. Most drivers have this coverage under their general auto insurance policy. Similarly, pedestrians struck by hit-and-run drivers may be entitled to compensation through their health insurance. It all depends on the specific circumstances of the case.
Get Experienced Legal Help for Your Hit-and-Run Claim
Though the person responsible for your hit-and-run accident may be unreachable, you still have a chance of obtaining compensation for the injuries you have sustained. Meyerkord & Kurth has handled countless injury cases, and our St. Louis hit-and-run accident lawyers share decades of experience. We can investigate the accident for evidence of who is at fault, and we will work diligently to help you hold the driver accountable for causing your injuries.
---
Don't wait to get started on your case. Contact a St. Louis hit-and-run accident attorney online today!
---

More Than $450,000,000 Recovered for Our Clients
Experienced Personal Injury Attorneys Serving Missouri & Illinois
$844,711 Amputation Injury

$225,000 Auto Accident

$75,000 Auto Accident

$77,500 Auto Accident

$125,000 Auto Accident

$447,500 Auto Accident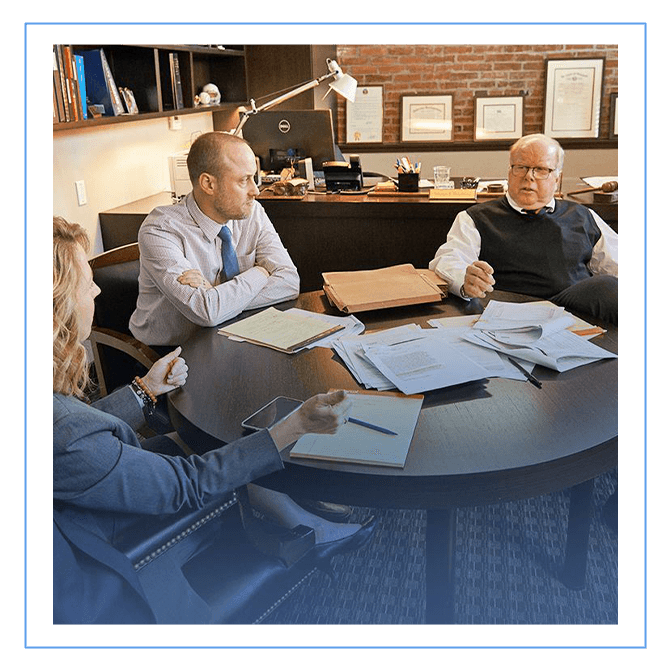 Providing Individualized Legal Guidance. Always.
100+ Years of Legal Experience

We'll Handle Even The Most Complex Legal Matters

We've Recovered More Than $450 Million For Our Clients

We Provide Free Consultations