The Right Team Makes All The Difference
With decades of experience and a track-record of favorable verdicts, you can rest easy knowing our attorneys have your best interest in mind.
School Zone Accidents
We Serve Injury Victims in St. Louis
When you call Meyerkord & Kurth for help, you will receive the benefits of decades of legal experience and plentiful success in resolving personal injury matters on behalf of thousands of clients. Throughout our practice, we have recovered more than $450 million for injury victims in St. Louis, and we are well equipped to help you pursue fair compensation for your damages. Connect with one of our personal injury attorneys in St. Louis as soon as possible following your accident or injury in order to increase your chances of receiving justice and adequate reimbursement.
---
Call (800) 391-4318 today to speak to a St. Louis school zone accident lawyer as soon as possible.
---
Liability and Responsibility for School Zone Accidents
: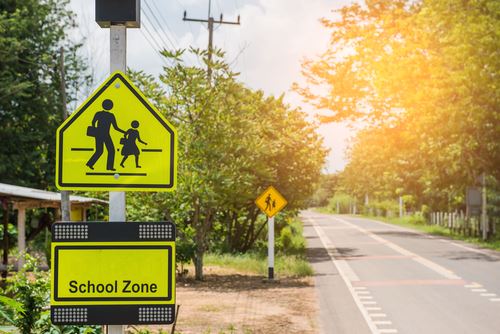 During the academic year, school zones with reduced speeds, crossing guards, and signs are created to protect children on their way to class. However, many dangers persist, including (but certainly not limited to):
Speeding drivers
Distracted drivers
Drivers who experience vehicle malfunctions
Drowsy drivers
Lack of visibility of signs indicating reduced speed, children crossing the street, etc.
Negligent school bus drivers
In accidents involving drivers and motor vehicles, there is almost always some instance of negligence that contributes to the injuries, suffering, and deaths that result. Sometimes careless drivers can be held responsible for the effects of their inattention or reckless behavior behind the wheel, especially if their actions (or failure to act appropriately) directly cause the suffering and financial loss of another person or family.
If an accident occurs due to a vehicle malfunction of some sort, it may be the result of an error in the design, maintenance, or manufacturing of the car in question. In such cases, the manufacturer may be held liable for the resulting damages and harm and forced to adequately compensate the injured person.
How a Personal Injury Attorney Can Help
Regardless of how a school zone accident happens, getting in touch with an experienced personal injury attorney is always a good move. A personal injury attorney can help you establish liability and make a strong case for fair compensation on your behalf. This can help you avoid absorbing the personal and financial costs of someone else's irresponsible behavior, and it can allow you and your loved ones the financial freedom to afford medical treatment, funeral costs, and other expenses that you may incur following a school zone accident.
---
Let us help. Contact us online to speak to a member of our team and receive a free case review as soon as possible.
---
Getting the Best Possible Outcome & Never Settling for Less
Recent Case Results, Victories, & Settlements
Medical Malpractice $4,000,000

Personal Injury $2,500,000

Medical Malpractice $2,000,000

Medical Malpractice $2,000,000

Medical Malpractice $2,000,000
Providing Individualized Legal Guidance. Always.
100+ Years of Legal Experience

We'll Handle Even The Most Complex Legal Matters

We've Recovered More Than $450 Million For Our Clients

We Provide Free Consultations
Take Control of Your Claim
Schedule a Free Consultation Now at

800-391-4318