The Right Team Makes All The Difference
With decades of experience and a track-record of favorable verdicts, you can rest easy knowing our attorneys have your best interest in mind.
Electric Scooter Accident Attorneys in St. Louis
Protect Yourself From the Risks of Electric Scooter Injury
The popularity of electric scooters is spreading, and with the announcement in July 2018 that St. Louis County would be entering into partnerships with Bird and Lime, you're more likely than ever to witness one of these motor vehicles speeding alongside cars and trucks. But as with any motor vehicle, electric scooters carry serious risks of injury – even more so, because they expose vulnerable passengers to risks on every side.
If you're injured in an accident while riding an electric scooter, you'll need an experienced personal injury attorney who understands the new laws and regulations for these vehicles. At Meyerkord & Kurth LLC, we strive to provide innovative legal defenses and exceptional representation for your injury cases. Our St. Louis electric scooter lawyers keep up-to-date on the laws, so we can help our clients receive adequate compensation when it is owed.
---
Have you been hurt in an electric scooter accident? Call Meyerkord & Kurth at (800) 391-4318 today for a free initial consultation in St. Louis & surrounding areas.
---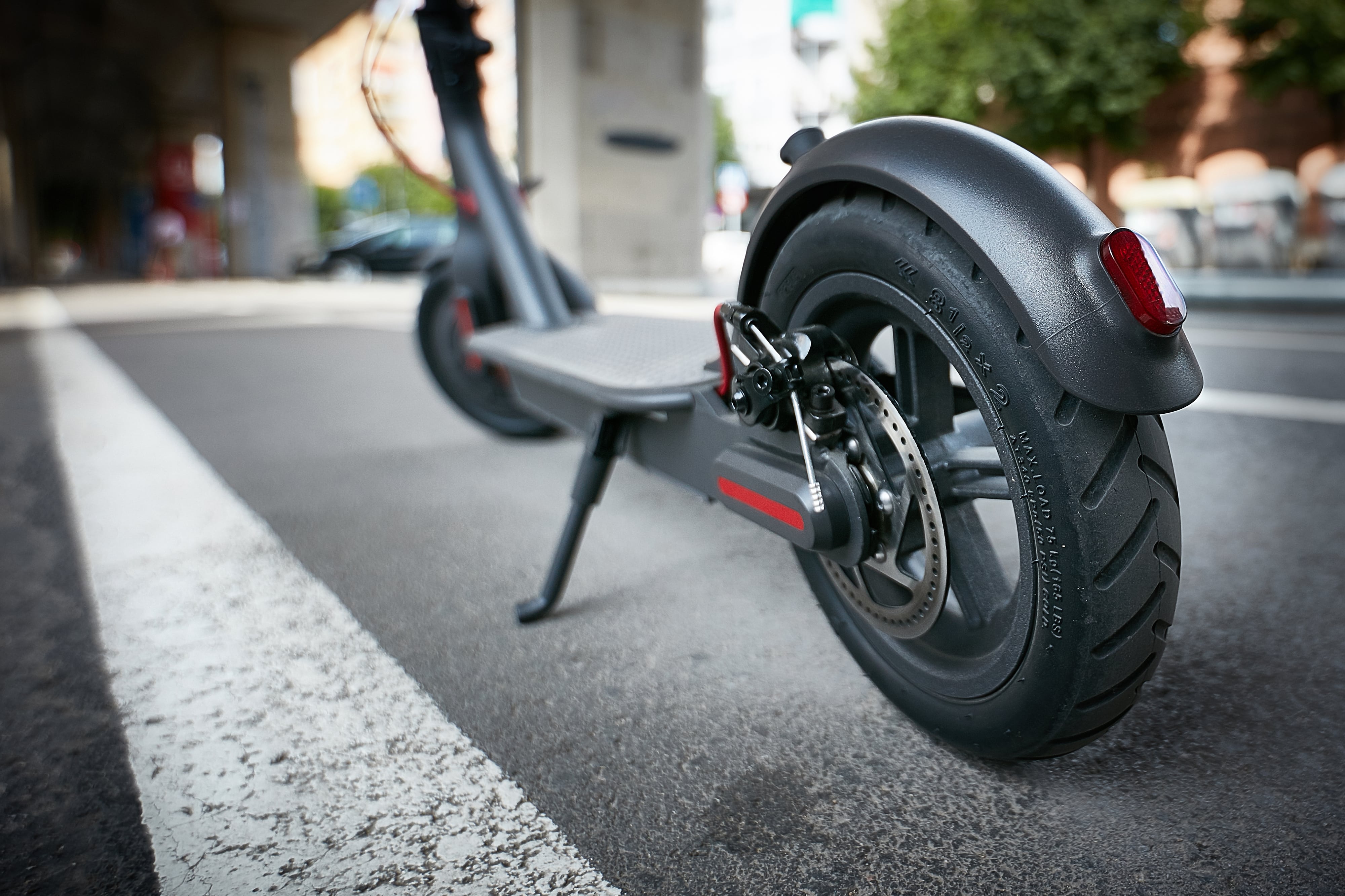 Why Are Electric Scooters Dangerous?
There are many inherent safety risks to riding a scooter in a city, and the government has struggled to properly regulate these vehicles since their release. One study suggests 90% of drivers in a scooter crash are uninsured, and fewer than 20% are wearing appropriate safety gear at the time of impact. This is further aggravated by the fact that companies rarely provide helmets or other safety equipment with their scooter or bicycle rentals. When companies fail to observe basic safety regulations, it can have disastrous consequences for consumers.
Common Traumatic Injuries From Electric Scooters
Doctors have observed a sharp uptick in injuries in conjunction with the electric scooter trend. In the past, hover boards and skateboards have caused similar injuries, but the primary difference here is that many middle-aged, working adults use electric scooters for their commutes to and from work. When crashes occur, they can be fatal, and the National Highway Traffic Safety Administration estimates that they are nearly 35% more likely to result in a fatal accident than a car.
Some of the most common injuries sustained in an electric scooter crash include:
Broken bones, such as hips and legs
Whiplash and concussion
Fractured skulls
Dislocation
Head contusions
Cuts and abrasions
Plantar fasciitis
Internal organ damage
Paralysis
Holding Negligent Parties Accountable in Scooter Accidents
Despite the risks posed by electric scooters, all drivers and pedestrians are entitled to share the roadways in safety and harmony. When other drivers or negligent companies cause injuries related to an electric scooter, they should be held accountable. But determining liability in a scooter or bicycle sharing program can be difficult, as many parties can be involved in these accidents.
When you're injured in an electric scooter accident, the following parties may be liable for your injuries:
The parent company that owns the electric scooter. Companies like Bird and Lime are responsible for ensuring the scooters operate properly. If you're injured as a result of electric scooter failure, the company could be liable for damages.
The driver of the electric scooter. Pedestrians are at risk for electric scooter injury, too. Because these vehicles are not permitted on sidewalks in St. Louis, an electric scooter user may be violating the law if they drive on a sidewalk and injure you as a result.
Motor vehicle drivers who swerved to avoid a scooter. In many cases, car and truck drivers will cause accidents with other cars in the attempt to avoid a motorist or scooter rider. Anyone involved in causing this kind of crash could be responsible for your compensation.
Negligent vehicle drivers. Distracted or aggressive driving can constitute negligence in any accident, and this is especially true if it results in a catastrophic injury for an electric scooter rider.
Do you recognize your accident in any of the scenarios detailed above? Then it may be time to contact a skilled electric scooter accident attorney in St. Louis. At Meyerkord & Kurth, we have established a strong legacy of protecting our clients against the negligence and carelessness of others. With over $450 million won in settlements on behalf of our clients, we can fight for the compensation you deserve after an accident.
---
Get a free case review when you contact Meyerkord & Kurth today.
---
Getting the Best Possible Outcome & Never Settling for Less
Recent Case Results, Victories, & Settlements
Medical Malpractice $4,000,000

Personal Injury $2,500,000

Medical Malpractice $2,000,000

Medical Malpractice $2,000,000

Medical Malpractice $2,000,000
Providing Individualized Legal Guidance. Always.
100+ Years of Legal Experience

We'll Handle Even The Most Complex Legal Matters

We've Recovered More Than $450 Million For Our Clients

We Provide Free Consultations
Take Control of Your Claim
Schedule a Free Consultation Now at

800-391-4318