Distracted Driving
With decades of experience and a track-record of favorable verdicts, you can rest easy knowing our attorneys have your best interest in mind.
St. Louis Distracted Driving Accident Lawyer
Injured By a Distracted Driver? We're Available 24/7!
Today, technology is a huge part of the way we live. It is in our houses, at our jobs, in our cars, and in our pockets. As a result, cellphones, navigational maps, and other sources of technology have all become dangerous pieces of equipment for drivers everywhere. In fact, the Centers for Disease Control and Prevention states that, on average, 15 people are killed and 1,200 are injured due to distracted driving accidents every day.
---
If you have been harmed in a distracted driving accident, contact our St. Louis distracted driving accident lawyers at Meyerkord & Kurth today. We're available 24/7.
---
Different Types of Distracted Driving
According to the National Highway Traffic Safety Administration, 3,154 people were killed in 2013 due to car accidents involving a distracted driver.
Many distracted drivers participate in the following:
Drinking
Eating
Talking to passengers
Manipulating cellphones
Texting
Talking on the phone
Watching videos/movies
Using maps
There are three types of distraction that can avert a driver's attention from the road, including:
Visual distractions: This type of distracted driving involves any activity that removes a person's eyes from the road.
Manual distractions: This type of distracted driving involves any activity that removes a person's hands from the steering wheel.
Cognitive distractions: This type of distracted driving involves any activity that removes a person's thought-process and mind from the road and driving conditions.
Distracted Driving Laws in Missouri
With greater awareness about the dangers posed by distracted driving, states across the country have passed new and increasingly tougher laws to prevent it. Missouri, however, is notoriously one of the few states to not have robust legislation that prohibits texting while driving or cell phone use for motorists. Under current law, Missouri only bans text messaging behind the wheel for drivers under the age of 21.
While legislators have continually tried to pass tougher distracted driving laws to bring Missouri up to par with the majority of states across the country, the fact remains that most motorists can use their cell phones and text behind the wheel with little to no consequence – at least in terms of traffic infractions.
Because using a phone and texting is still a negligent act, even if not explicitly illegal under Missouri law, distracted drivers can still be held accountable for causing preventable accidents and injuries to victims, and liable for damages that may include:
Medical expenses and future medical needs
Lost income and decreased earning potential
Physical pain and suffering
Mental anguish and emotional injuries
Wrongful death and the emotional losses of families
Why Choose Meyerkord & Kurth for Your Personal Injury Case?
When it comes to personal injury cases, you need a law firm that is experienced, dedicated, and has a track record of success. At Meyerkord & Kurth, we have been fighting for the rights of accident victims in the St. Louis area for over 30 years. Here's why you should choose us:
Proven Results: Our trial lawyers have a proven track record of securing substantial compensation for our clients. We have recovered millions of dollars in settlements and verdicts.
Personalized Attention: We understand that every case is unique, and we give personalized attention to each client. Our attorneys will listen to your story, answer your questions, and guide you through the legal process.
24/7 Availability: Accidents can happen at any time, which is why we are available 24/7 to assist you. Whether it's answering your questions or providing legal advice, we are here for you whenever you need us.
Extensive Experience: Our team of attorneys has extensive experience in handling all types of personal injury cases, including distracted driving accidents. We know the laws, the tactics insurance companies use, and how to build a strong case for maximum compensation.
Compassionate Advocacy: We understand the physical, emotional, and financial toll that a personal injury can have on your life. We are committed to providing compassionate advocacy and fighting for the justice and compensation you deserve.
Don't settle for less when it comes to your personal injury case. Contact Meyerkord & Kurth today for a free consultation and let us fight for the justice and compensation you deserve.
Proven Trial Lawyers: Seeking Justice for You
If you or someone you love has been injured in an accident that involved a distracted driver, you reserve the right to pursue financial compensation for any physical harms, emotional distresses, medical expenses, or lost wages you may acquire as a result. At Meyerkord & Kurth, our St. Louis distracted driving accident lawyers have handled a countless number of distracted driving accidents on the behalf of individuals and families. When you become a client of ours, we will take the time to understand your case so that we can defend your rights fearlessly.
---
Pursue justice for your injuries by getting the representation you deserve. Meyerkord & Kurth is here for you.
---

More Than $450,000,000 Recovered for Our Clients
Experienced Personal Injury Attorneys Serving Missouri & Illinois
$844,711 Amputation Injury

$225,000 Auto Accident

$75,000 Auto Accident

$77,500 Auto Accident

$125,000 Auto Accident

$447,500 Auto Accident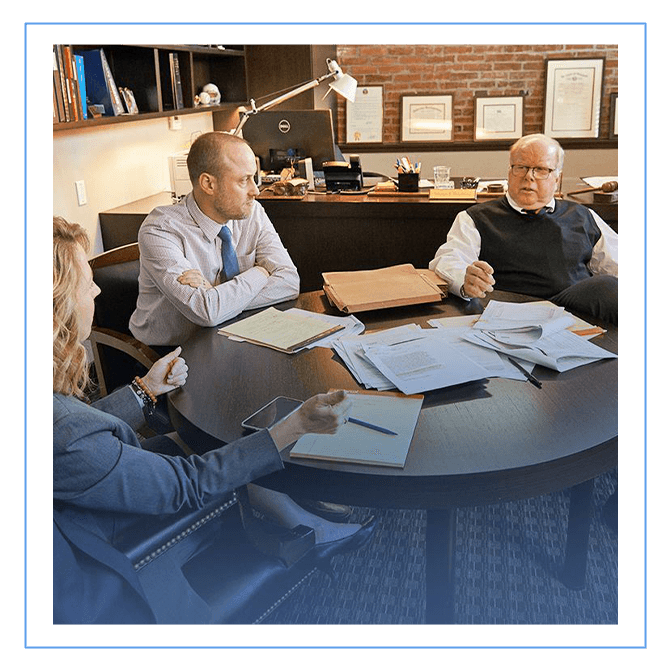 Providing Individualized Legal Guidance. Always.
100+ Years of Legal Experience

We'll Handle Even The Most Complex Legal Matters

We've Recovered More Than $450 Million For Our Clients

We Provide Free Consultations