Bus Accidents
With decades of experience and a track-record of favorable verdicts, you can rest easy knowing our attorneys have your best interest in mind.
St. Louis Bus Accident Lawyers
If You've Been Injured, Call Our Team of Qualified Trial Lawyers
From taking adults to work or kids to school, buses are the main method of transportation for many commuters in St. Louis and throughout Missouri and Illinois. While bus drivers should be fully assessed by companies before they are hired, sometimes unsafe operators end up on our roads. Due to the sheer size and weight of these vehicles, bus accidents can be devastating to others. Whether you are a bus passenger, a motorist, or even a pedestrian, the injuries you sustain could be catastrophic and life-threatening.
Our St. Louis bus accident attorneys at Meyerkord & Kurth have helped bus accident victims recover financial compensation for medical expenses, lost wages, and even pain and suffering. With more than 80 years of combined legal experience and $450 million recovered on behalf of our clients, we can provide you with personalized legal solutions that hold the at-fault party liable for their negligent actions.
How Bus Accidents Happen
Bus drivers face unique challenges: Large vehicles are harder to maneuver than cars, and their size and the presence of multiple passengers may introduce blind spots. Impatient drivers often act unpredictably, swerving around buses in ways that can endanger them and others. Though those in cars, riding bikes, or on foot are more likely to get hurt in bus accidents, passengers are also at risk—especially if they're not wearing seat belts or are standing up at the time of the collision.
Common causes of bus accidents include, but are not limited to:
Bus driver negligence (e.g. distracted or fatigued driving, reckless driving, speeding, etc.)
Bus company negligence (e.g. ignoring federal regulations, not training drivers, and failing to keep vehicles properly maintained, etc.)
Negligent motorists in other vehicles
Pedestrians (e.g. walking into a bus driver's blind spot)
Inclement weather
Even when you know the cause(s) of an accident, figuring out where to file an accident claim may be difficult. Ask our attorneys if you have questions regarding how you should move forward in such a situation.
Considering a Bus Accident Claim?
If you were injured in a bus accident that was caused by another party, you are likely eligible for compensation. Bus passengers, drivers, and other road users alike may all have reasons to file a claim. It all depends on the circumstances of the accident.
Commercial Bus Accidents
Asking a car insurer for compensation after an accident is difficult enough, but bus accident claims are often even harder to navigate. In many cases, you will be filing against a bus company for its negligence:
If management hired a driver with previous violations on their record
If the company fails to keep up with standard maintenance or fund repairs
If its schedules require drivers to work more hours than allowed by federal regulations
Such violations are more common than you may think. One study of bus accidents, conducted by the University of Michigan, found that, among charter bus drivers who were involved in a crash, 44% had either been involved in a wreck or ticketed within the past 3 years. Companies that knowingly put these drivers on the road are neglecting their duty to provide their passengers and other road users with a safe experience.
Lawsuits Against Government Agencies
When the at-fault bus driver is paid using tax dollars—as are those who work transit and school bus routes—you will not be facing off against a company. The government will be the one to hear your claim. Of course, they don't make it easy. Government entities often have special rules for lawsuits that require more of the plaintiff.
Before suing, you often must file a notice of your intent so the state can give you permission to file a suit; officials may examine your claim to see if it meets certain requirements that allow you to bypass their sovereign immunity. You also have a much shorter time to bring your claim when it is against the state government. In Missouri, you typically must file within 90 days of the injury. Our team is licensed in both Missouri and Illinois courts, so we can help you learn the specific requirements for your jurisdiction and file your case before it's too late.
Request a Free Consultation Today
Our St. Louis bus accident lawyers can investigate a collision, collect evidence, and negotiate with insurance agents to maximize your entitled compensation. Bus companies and their insurers will likely do everything they can to defend themselves against injury claims. Enlist an experienced lawyer who will advocate for you in negotiations and in the courtroom.
---
For more information, contact Meyerkord & Kurth at (800) 391-4318. We'll call you back within 24 hours.
---

More Than $450,000,000 Recovered for Our Clients
Experienced Personal Injury Attorneys Serving Missouri & Illinois
$844,711 Amputation Injury

$225,000 Auto Accident

$75,000 Auto Accident

$77,500 Auto Accident

$125,000 Auto Accident

$447,500 Auto Accident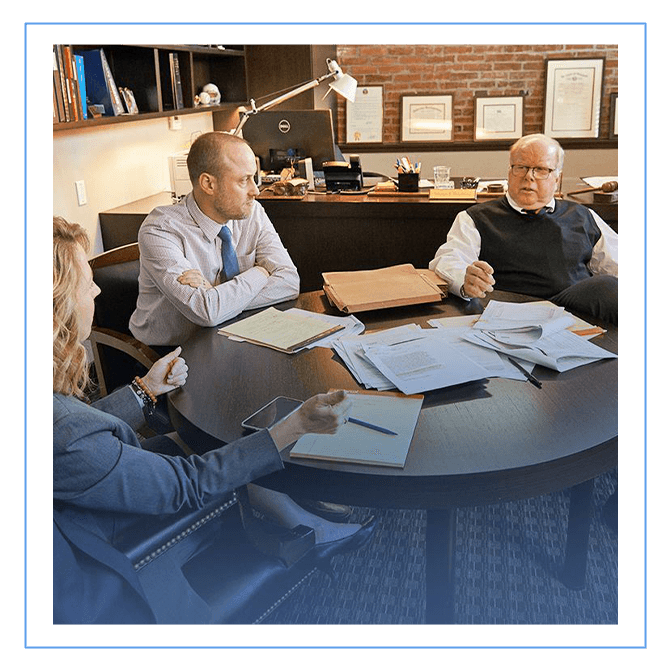 Providing Individualized Legal Guidance. Always.
100+ Years of Legal Experience

We'll Handle Even The Most Complex Legal Matters

We've Recovered More Than $450 Million For Our Clients

We Provide Free Consultations