Wrongful Death
With decades of experience and a track-record of favorable verdicts, you can rest easy knowing our attorneys have your best interest in mind.
Wrongful Death Attorneys Serving St. Louis
Get the Assistance You Deserve After Losing a Loved One
Grief over a loved one's death may stick with us for the rest of our lives. Those who have mourned a family member know that long after the condolences fade, the feelings remain. The truth is, life will never be the same after you lose someone who is close to you. You and the rest of your family are left to find a way forward in a different world.
Part of the complication of losing a loved one is that you have lost a supporter. Having an emotional bond can help us weather hard times, but so can having another provider. Perhaps your loved one brought home a much-needed second income; perhaps they cared for the children and house, allowing you to work full-time at a demanding job. You may find yourself in financial trouble even if you worked hard and saved up.
If your loved one was killed in an accident caused by someone else's negligence, you may be able to recover a financial safety net through a wrongful death case. Money is the last thing you should have to worry about when you are already facing so much emotional hardship.
A wrongful death suit can also help you bring justice on your loved one's behalf. The impact of a loss can ricochet through the victim's family, yet hardly affect the person who caused it in the first place. Pursuing compensation forces them to face the consequences of their actions.
If you want to file—or if you are even thinking about filing—a wrongful death suit, we are here to answer your questions and provide legal guidance. For over 80 years, we've been supporting the people of St. Louis through some of the most difficult parts of their lives.
---
Call us at (800) 391-4318 to schedule a free consultation with one of our attorneys today.
---
The Legal Process in Wrongful Death Cases
To bring a successful wrongful death suit, you must be able to demonstrate how the defendant's negligence led to the death of your loved one. This law is purposefully wide in scope; it can apply to:
A robbery-gone-wrong that results in the death of an innocent person
A car accident that resulted in fatalities
Medical malpractice that caused a patient's death
Asbestos exposure at work that led to a fatal cancer
This gives survivors a way to hold an at-fault party accountable if their loved one dies due to any type of negligence or willful action. Its broad applicability is a marker of how important this law is to protect the families and dependents of accident victims. We can help you determine whether you have a case based on your relationship to the deceased and the situation surrounding their death.
The details of your case will vary based on circumstances surrounding the accident. However, in all cases, you will have to prove:
the defendant owed your loved one a duty of care;
the accident was caused by the defendant's negligence or willful misaction;
the accident directly caused your loved one's death; and
you now face damages because of that.
An experienced attorney can help you gather evidence to support these claims and can advocate for you in negotiations or in front of a courtroom. Often, a defendant in such a case will draw out the process because they do not want to pay. You can rest assured our attorneys stick with every case until its conclusion. We understand you may need extra support right now, and if we can take any worry off your chest by dealing with complicated legal matters, we are happy to do so.
What Is Wrongful Death?
Legally, a wrongful death is one caused by another's negligence, intentional conduct, or wrongful actions. For example, if your loved one was killed by a drunk driver or by a careless property owner, you have the right to file a wrongful death lawsuit.
How Long Do I Have to File a Wrongful Death Claim?
In the state of Missouri, it is important to understand that there is a specific time limit, known as the statute of limitations, for filing a wrongful death case. This time limit is set at three years. What this means is that you have a reasonable amount of time after experiencing the initial grief to take legal action and protect your rights. However, this time limit is not set in stone. It is crucial to avoid delaying the legal processes, as doing so could potentially result in your wrongful death case being voided if you miss this deadline. It is advisable to seek legal advice and take action within the proper time frame to ensure that you can effectively pursue justice and obtain the compensation you deserve.
While Missouri's wrongful death statute of limitations is generally three years from the date of death, it's crucial to understand that certain circumstances could alter this timeline. Specifically, in cases of wrongful death related to medical malpractice, the statute of limitations is reduced to two years from the date of occurrence or discovery of the negligent act. Therefore, time is of the essence and immediate action is encouraged. Additionally, other factors, such as the defendant leaving the state, can extend the statute of limitations. Given the complexities involved in these timelines, it's advisable to consult with an experienced wrongful death attorney to ensure your rights are protected.
What Compensation Could I Receive in a Wrongful Death Lawsuit?
Damages awarded in a wrongful death lawsuit may include burial and funeral expenses, medical bills of the decedent related to their final injury or illness, pain and suffering of the decedent prior to death, loss of consortium, loss of wages and benefits that the decedent would have provided, and other economic damages. Punitive damages, which are designed to punish a defendant for egregious behavior or gross negligence, may also be awarded.
Who May File a Wrongful Death Lawsuit?
Surviving family members of the deceased, including a spouse, parent, child, or other relative, may file a wrongful death lawsuit. The person filing the claim is usually the representative of the decedent's estate.
Do I Need an Attorney to File a Wrongful Death Claim?
When filing a wrongful death lawsuit, it is important to hire an experienced wrongful death attorney to assist with the procedural motions. For example, our team can help you file the necessary forms and weigh your options for pursuing financial relief. Furthermore, we can gather evidence to build your case and represent you in court.
Speak With Our Wrongful Death Lawyers in St. Louis
If you have recently lost a loved one, we can help you understand your legal rights and evaluate your options. The chance to recover compensation can help you keep up on house payments, send your kids
to school, or fulfill other important financial needs. We regret that we cannot do anything to help you bring your loved one back—but we are here to support you as you find your way forward.
---
Speak with our team today by calling (800) 391-4318. You'll always hear back from us within 24 hours of reaching out.
---

More Than $450,000,000 Recovered for Our Clients
Experienced Personal Injury Attorneys Serving Missouri & Illinois
$844,711 Amputation Injury

$225,000 Auto Accident

$75,000 Auto Accident

$77,500 Auto Accident

$125,000 Auto Accident

$447,500 Auto Accident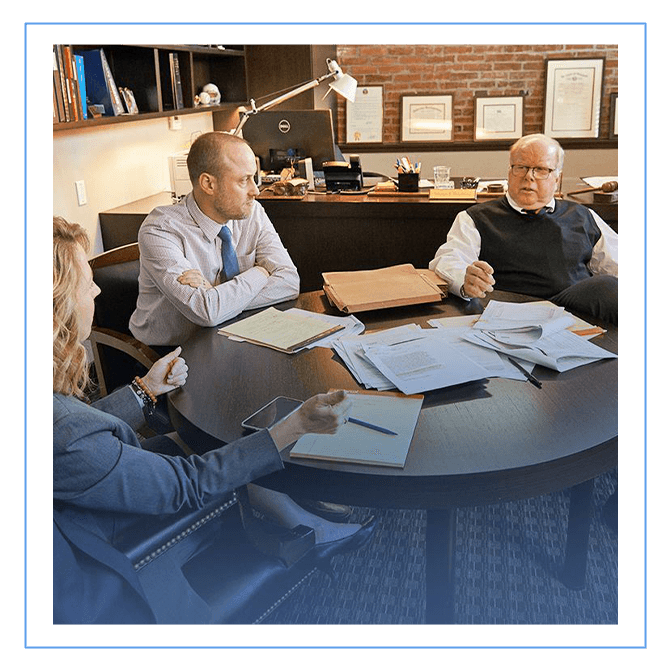 Providing Individualized Legal Guidance. Always.
100+ Years of Legal Experience

We'll Handle Even The Most Complex Legal Matters

We've Recovered More Than $450 Million For Our Clients

We Provide Free Consultations