Misdiagnosis
With decades of experience and a track-record of favorable verdicts, you can rest easy knowing our attorneys have your best interest in mind.
Medical Misdiagnosis Attorney in St. Louis
Misdiagnosed? Get compensation for any related complications!
Medical misdiagnosis on the part of a doctor or other medical professional can cause significant illness or injury to a patient. In the event that the patient has a time-sensitive condition, misdiagnosis could lead to that condition becoming much worse, to an additional related illness or injury or even to death. Misdiagnoses that are made during a pregnancy in particular can lead to extreme childbirth complications, birth injuries, and more.
It is an unfortunate aspect of misdiagnosis cases that the patient often does not know they've been misdiagnosed until it is much too late for them to receive proper treatment. This is due in large part to the fact that the physical manifestations of a misdiagnosis can sometimes take a substantial amount of time to show up in the person's body.
It is advised that individuals who have suffered a misdiagnosis, or even just suspect that they've been misdiagnosed, should contact a competent attorney immediately to discuss their legal options. If you have been misdiagnosed and have been injured or made ill as a result, contact a St. Louis misdiagnosis lawyer right away who can provide you with valuable legal assistance in your case.
Heart Attack Misdiagnosis
Most of us take the best care of our bodies as we can within the constraints of our busy lives. We watch our diets and food intake, avoid harmful behaviors and exercise regularly so that we can enjoy many long years with our family and loved ones. Even with this special care, you may be at risk for a heart attack simply because of genetics. Without thorough and professional medical attention, the symptoms of a heart attack can be overlooked or misdiagnosed, putting you at even more significant risk for injury or death. If you or a family member has been a victim of a heart attack misdiagnosis, find out more about protecting your legal interests by contacting a personal injury attorney as soon as possible.
Each person displays certain symptoms during a heart attack. Sometimes these symptoms can be overlooked because they are milder than expected or they are attributed to another ailment. Not everyone has the chest pain associated with a heart attack; instead, a heart attack may also present with symptoms such as fatigue, dizziness, indigestion, sweating or shortness of breath. Without skilled and proper medical attention, these symptoms can lead to even further damage to your body including permanent damage to your heart, stroke, embolism, aneurysm, heart failure and wrongful death.
Emergency Room Misdiagnosis in St. Louis
Anytime an individual makes a visit to the emergency room, they are no doubt suffering from painful and unexpected symptoms or injuries. Long wait times and busy volume can stretch medical professionals thin and test their competence and level of care. There are scarcely more stressful practice areas within the field of medicine as emergency room care. Even so, well-trained and capable doctors and nurses who specialize in emergency care should not provide a negligent or poor level of care. If you have suffered from poor treatment or misdiagnosis in the ER, you could be entitled to compensation for your compromised health or pain and suffering. Speaking with a St. Louis personal injury lawyer can help you better understand the options available to you.
Approximately 115 million patients receive care each year in an emergency room.
With the fast-paced nature of such medical treatment, mistakes such as medication errors, infections, negligence, birth injuries, and other emergency room errors can occur. Another, unfortunately, common occurrence is an ER misdiagnosis. This can leave you at a substantially increased risk of illness or injury, and doctors should be held liable for these mistakes.
If a hospital does not provide proper staffing or well-maintained and modern equipment, the risk of medical error can greatly increase, leading even to wrongful death in some cases. Out of the 225,000 people who lose their lives each year due to medical malpractice, almost half of these are due to negligent or erroneous treatment in the emergency room. Get immediate legal counsel if you or a loved one is one such victim.
---
If you or your family is dealing with the aftermath of poor care in the emergency room, you should turn to an outstanding and experienced law firm for help. The skilled attorneys at Meyerkord & Kurth understand the importance of your loved ones and treat you as though you were a member of our family.
---
Cancer Misdiagnosis
Cancer is a frightening word to hear from the mouth of your physician. This devastating disease can have profound and far-reaching effects on your quality of life, involving prolonged and difficult treatments and adjustments to your lifestyle. Some cancer types have extremely high mortality rates, especially if they are not found early enough to begin successful treatment.
When a doctor makes a misdiagnosis of cancer, the emotional trauma, pain and suffering inflicted upon you and your family can be beyond words. If you are going through this difficult time, you should be in contact with a St. Louis personal injury lawyer who can better help you understand your rights to compensation.
Misdiagnosis can have two different aspects, including providing a false positive or a false negative for cancer. For obvious reasons, the false negative has a much more serious impact. When a doctor fails to do the tests and diagnostics necessary to keep you well-informed of your health condition, cancer development can be missed and the crucial window to begin treatment may close. This can greatly reduce chances of survival when a cancer diagnosis is finally made. With modern advances in testing and treatment, the prognosis of cancer continues to improve, and our expectations of a high level of care and attention by our doctors should be met if we take the time for regular and detailed screenings.
Consult With an Attorney Today
At Meyerkord & Kurth, we have been handling medical malpractice cases of all types for many years, and we treat every client with the care and compassion that is the hallmark of a community-oriented law firm. Our attorneys have extensive experience in all areas of medical malpractice law and have recovered millions of dollars for past clients.
---
Contact our firm if you suspect you have been misdiagnosed by a physician. We will investigate your case to establish liability and will fight for the compensation you are rightly owed for your pain and suffering.
---

More Than $450,000,000 Recovered for Our Clients
Experienced Personal Injury Attorneys Serving Missouri & Illinois
$844,711 Amputation Injury

$225,000 Auto Accident

$75,000 Auto Accident

$77,500 Auto Accident

$125,000 Auto Accident

$447,500 Auto Accident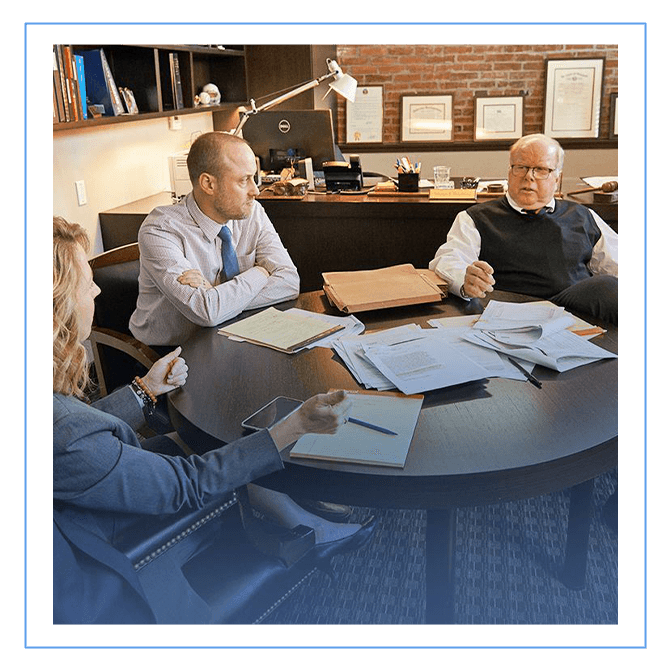 Providing Individualized Legal Guidance. Always.
100+ Years of Legal Experience

We'll Handle Even The Most Complex Legal Matters

We've Recovered More Than $450 Million For Our Clients

We Provide Free Consultations