Amputation
With decades of experience and a track-record of favorable verdicts, you can rest easy knowing our attorneys have your best interest in mind.
St. Louis Amputation Accident Lawyer
If a Bad Injury Results in an Amputation, Our Lawyers Can Protect Your Rights
Car or other vehicle accidents, disasters in construction or industrial workplaces, and other hazards that involve big and heavy machinery may result in an amputation. Traumatic injuries to the limbs and/or digits can also lead to amputation if they are so severe even the latest medical technology cannot heal them. Not only can the loss of a limb or digit require a major adjustment in a victim's routine, but it can also take a heavy mental toll.
Whether the amputation is the result of an emergency medical procedure or the limb is severed in a major accident, the victim may be able to bring a personal injury claim to help cover their medical bills and other damages. Meyerkord & Kurth has helped clients throughout the St. Louis area understand their rights after an accident and sue for recovery. When you meet with an attorney from our firm, you will get an unbiased opinion of your legal options and an idea of how much your claim may be worth.
---
With 100+ years of combined experience, our team can help you if you're ready to file a claim. Call us now at (800) 391-4318 for a free consultation.
---
Managing Traumatic Amputation
A traumatic amputation occurs when an accident either detaches a limb or digit from the body or damages it so badly it cannot be salvaged. There are two classifications:
A complete amputation is an injury in which all connecting tissue (including bone) is severed
A partial amputation is an injury in which the limb or digit is mostly severed by remains connected by ligaments, tendons, muscle, or other tissues.
Though limbs and digits may be salvageable after this type of injury, patients may permanently lose the affected body part.
The highest percentage of amputations are made for medical reasons, but the second-largest cause is trauma. Studies have determined a number of potential dangers across various situations. Traumatic amputation might be caused by:
Motorcycle crashes
Pedestrian accidents
Gun violence
Blast injuries
Accidents involving factory, farm, or power tools
Due to the serious nature of such accidents, amputation victims are also likely to have other serious injuries that need attention. At times, doctors must choose between keeping a patient's limb and saving their life.
Symptoms and Complications Victims May Experience
Even when the best-case scenario for a patient results in loss of limb, they may develop lasting health conditions related to the procedure. One study found the victims of traumatic amputation were likely to have lower levels of physical function and higher levels of pain than non-amputees in their cohort. In fact, phantom pain and/or sensation affects around 80% of amputees, appearing either at the time of the amputation or months to years later.
These injuries can also cause immediate complications that can further threaten victims' health and survival. At the time of the amputation, patients are likely to experience high levels of blood loss and go into shock. Infection is also a concern, as with any open wound. Once a patient has overcome the immediate hardships, they are likely to face a long period of recovery. Even with the help of physical and occupational therapists, they may continue to face pain and have trouble performing everyday tasks. Amputees are less likely to be able to return to work after an accident; even those who are able to hold a job may end up in a lower-paying position.
Many victims of traumatic amputation, after they have recovered enough, are fitted with a prosthetic limb. These patients may unfortunately face further complications. In surveys of prosthesis users, scientists found dissatisfaction rates that ranged from 18-57%. In some cases, patients rejected prostheses that did not properly connect with their bodies. In others, device defects (breakages, screw loosening, etc.) decreased functionality and comfort. In turn, this reduced patients' quality of life.

More Than $450,000,000 Recovered for Our Clients
Experienced Personal Injury Attorneys Serving Missouri & Illinois
$844,711 Amputation Injury

$225,000 Auto Accident

$75,000 Auto Accident

$77,500 Auto Accident

$125,000 Auto Accident

$447,500 Auto Accident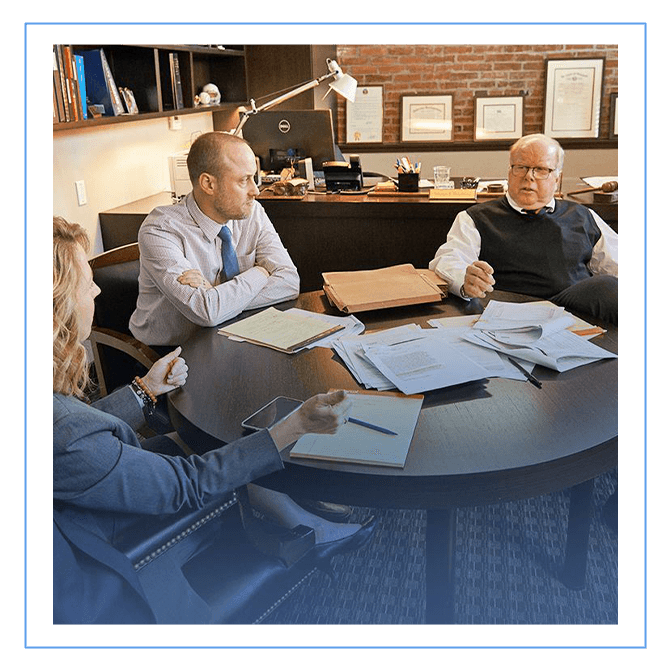 Providing Individualized Legal Guidance. Always.
100+ Years of Legal Experience

We'll Handle Even The Most Complex Legal Matters

We've Recovered More Than $450 Million For Our Clients

We Provide Free Consultations