In the evening of July 19th, 2018, a thunderstorm rolled across Branson, Missouri and the surrounding region. A duck boat carrying 31 passengers was caught in the squall, sank, and resulted in 17 deaths. We discussed this tragedy in our blog, and the story continues today with the recent filing of the first wrongful death claims against the parent company accused of negligently allowing the boat onto the waters in such bad weather.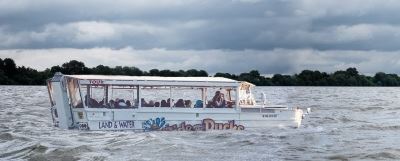 Ride the Ducks of Branson — owned by parent company Ripley Entertainment — has been targeted by the lawsuit, which demands $100 million in damages for the loss of multiple family members. In particular, the lawsuit was filed on behalf of the administrators for the estates of the decedents Maxwell Ly and Ervin Coleman, aged 2 and 76, respectively. The plaintiffs' case has accused the company of permitting the duck boat full of passengers to hit the waters despite harsh weather warnings. Indeed, it appears the touring schedule was altered to rush the boat onto the water, perhaps to "get ahead" of the approaching storm. The company is also accused of ignoring decades' old research that found defects and inherit dangers in duck boat designs that were never changed or addressed, like the canopy placed directly over passengers that can pull them down with the boat as it sinks.
In order to build the strength of the complaint, the lawsuit cites past incidents of duck boat accidents and deaths. In total, 42 people have lost their lives due in duck boat accidents since 1999. A duck boat of similar design sank in 1999 on an Arkansas lake, resulting in 13 deaths. The National Transportation Safety Board (NTSB) issued a full report of the tragedy in 2002, noting several ways duck boat designs posed dangers and how they could be improved.
The plaintiffs have also declared they want the outcome of their case to not only provide them with deserved compensation, but to also ban duck boats for recreational use unless improvements to their design and industry regulations are made. It is true that some of the biggest and best changes to safety regulations and laws are the direct result of wrongful death and personal injury lawsuits that bring attention to an issue and target a corporation's finances as penalty.
(For more information about this ongoing story, you can click here to view a full article from CNN.)
Missouri Duck Boat Accident Attorneys & Wrongful Death Lawyers
If you or a loved one have been seriously injured following a duck boat accident, Meyerkord & Kurth and our St. Louis injury lawyers are ready to demand justice on your behalf. Our legal team has more than 100 years of combined legal experience, and we have secured more than $400 million in settlements and verdicts for our clients throughout the years. See what our caliber of service can do for you and your claim by calling (800) 391-4318 or filling out an online contact form today.