Understanding the Prevalence of Drunk Driving Fatalities
According to the National Highway Traffic Safety Administration (NHTSA), about 28 people die in drunk driving crashes every day in the U.S.
Drunk driving fatalities are preventable and can be significantly reduced if every motorist did their part in driving responsibly. Even with national campaigns such as "Drive Sober or Get Pulled Over" and "Buzzed Driving is Drunk Driving," these types of accidents are still taking a person's life every 52 minutes. Here are the stats you should know.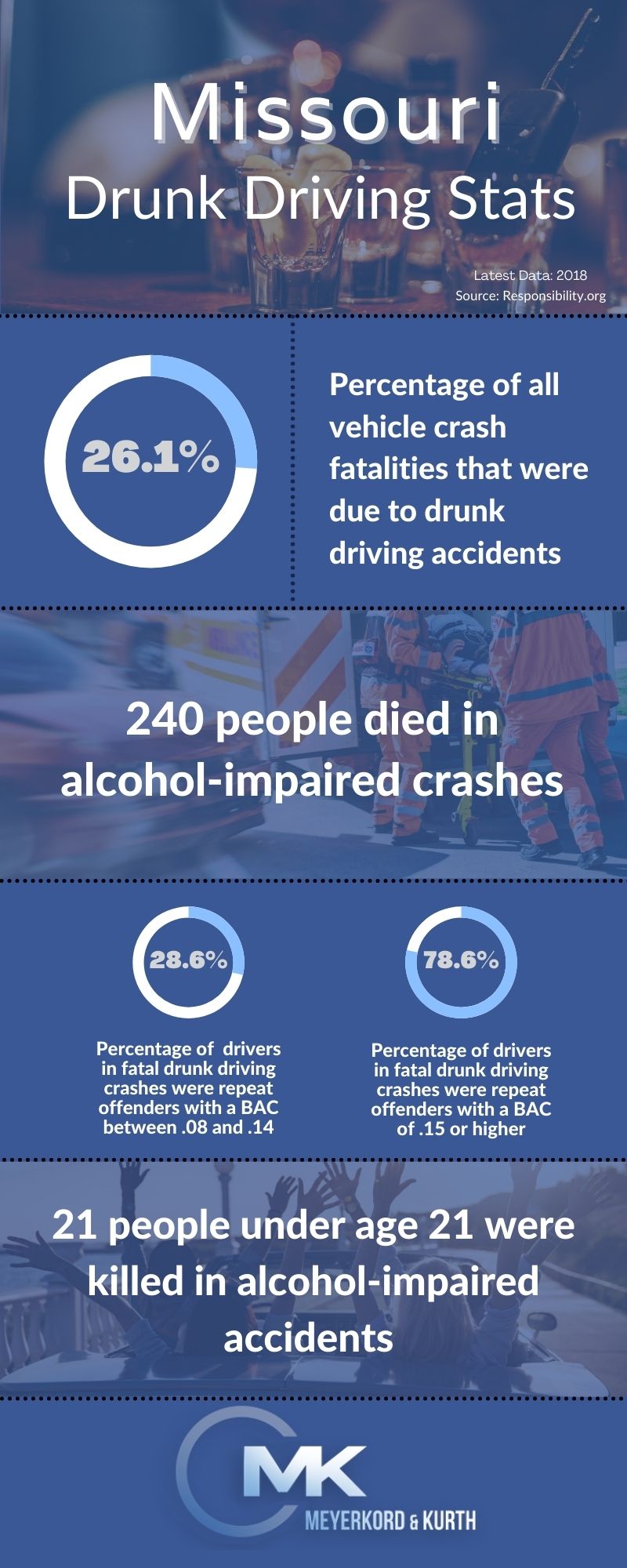 Missouri Drunk Driving Stats
This infographic illustrates how Missouri measures in national comparison when it comes to drunk driving:
Missouri Crash Stats
240 people died in alcohol-impaired crashes
26.1% of all vehicle crash fatalities were due to drunk driving accidents
21 people under age 21 were killed in alcohol-impaired accidents
Repeat Drunk Driving Offenders
28.6% of drivers in fatal drunk driving crashes were repeat offenders with a BAC between .08 and .14
78.6% of drivers in fatal drunk driving crashes were repeat offenders with a BAC of .15 or higher
Latest Data: 2018
Injured in a Car Crash? Meyerkord & Kurth Can Help.
Being involved in a car crash is a devastating experience — and when it involves sustaining a severe injury, it can be both physically and mentally challenging. Recovering from a serious injury can also mean the financial stresses of long-term treatments, therapies, and medical visits.
Our experienced attorneys are ready to take on the insurance companies that often try to get away with lowball settlements. Know that we are your advocates and will support you every step of the way so you can receive the maximum compensation you are entitled to.
Contact Meyerkord & Kurth today at (800) 391-4318 to learn more about recovering compensation for your injuries.