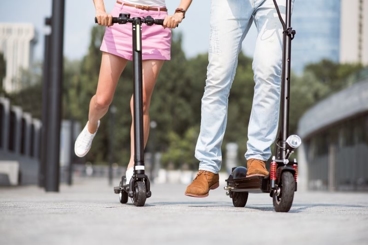 As of July, electric scooters have finally arrived in The Gateway City. Young adults and middle-aged workers alike can zip through the city on a cheap and energy-efficient alternative to driving, and it may seem like a lot of fun. However, these little vehicles are continuing to cause major headaches for lawmakers – and serious injuries for riders and pedestrians.
Our St. Louis electric scooter accident lawyers at Meyerkord & Kurth, have already received many calls about these vehicles, and they have been demonstrated time and again to pose serious risks to the public. But what exactly are the laws governing electric scooters, and what should you know about them? In this post, we discuss some of the legal regulations of electric scooter programs, and how you can stay safe on the roads.
What Makes Electric Scooters so Controversial?
Recently, the city of St. Louis announced it would be entering a partnership with electric scooter companies and allowing them on public roadways. Companies like Lime and Bird have been steadily releasing pilot programs in nearly every major city around the world, claiming these short-term use vehicles provide "smart mobility for a modern world." The reduced costs and cleaner carbon footprint of scooters strongly appeal to many conscientious consumers. Costing only $1 and change to ride, and relying entirely on electricity, it's true that electric scooters offer some benefits over traditional vehicles, especially for short distances.
It's easy to see why people turn to scooter and bicycle sharing programs to assist with their daily commutes. But the risks posed by electric scooters also make them controversial. In downtown St. Louis, the initial release of Bird scooters was halted because the company failed to secure adequate permits. Additionally, the city determined that driving on sidewalks was too risky to pedestrians.
In other cities like San Francisco and Santa Monica, the electric scooter debate has intensified, as public works officials discovered the hazard posed by scooters left around the city. Because Bird and Lime users can simply drop the scooters at their final destination, many are carelessly leaving them outside apartment buildings, and putting other city residents at risk of tripping and falling. Still more are crashing into pedestrians at unsafe speeds on sidewalks.
What Are the Legal Regulations for Electric Scooters?
Aside from observing the rules of the road, there are also specific laws you need to follow on an electric scooter. Lawmakers across the nation have scrambled to devise appropriate guidelines for electric scooters and bicycles, and like other road regulations, these can vary dramatically from state to state. In Missouri, there are a few key rules that you should know before taking one out for a test drive.
When you ride an electric scooter, you must meet the following conditions at all times, or you are breaking the law:
You cannot drive on the highway.
You may only drive your scooter on a roadway; not on the sidewalk.
You must drive on a roadway with a listed speed limitunder the travelling speed of your device.
You must be older than 18 and hold a valid Missouri driver's license.
Some Safety Tips for Riding Electric Scooters
Surprisingly, you are not legally required to wear a helmet when operating an electric scooter in Missouri. The use of helmets and other protective gear is merely "encouraged" by the Missouri State Highway Patrol. While this may seem like an obvious insight, the companies that provide electric scooters often do not include helmets (although Bird does provide them upon a customer's explicit request.)
If you do choose to ride an electric scooter, make sure that you follow some basic safety precautions, in addition to obeying the laws of the land:
Always wear some form of protective gear, including helmets, knee pads, elbow pads, and other safety devices.
Don't text and ride a scooter at the same time.
Be considerate of pedestrians, and give them the right of way at all times.
Keep both hands firmly on the handlebars.
Avoid aggressive behavior on the road.
Don't perform stunts or attempt unusually risky maneuvers.
Regardless of the precautions you take, you could still be at risk for a life-threatening accident when you ride an electric scooter. Because so many parties can be involved in these accidents, it's always best to discuss your case with a seasoned personal injury attorney, one with knowledge of your jurisdiction and experience fighting back against negligent drivers and companies.
Have you been hurt using an electric scooter or bicycle sharing program? Contact Meyerkord & Kurth todayfor a free case review. Our St. Louis electric scooter lawyers can provide our clients with decades of trial experience and a deep understanding of innovative technology.