School's Back in Session! Here's How to Prep Your Kids for School Zone Safety.
The fall semester is underway, and it's time to talk about crosswalks, school zones, and keeping your children safe while traveling to and from school. Approximately 500 children are injured or killed in school zones every year due to the high concentration of people and motor vehicles and lack of attention by one or more parties involved.
However, you can protect your children by equipping them to navigate school zones safely. Here are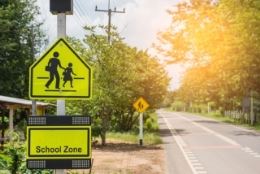 a few pro tips you can use when giving your kids the safety talk:
Make sure they know to pause and look both ways before using a crosswalk, even if the crossing guard gives them permission to cross.
Wait at your child's bus stop with them a time or two and encourage them to stand an appropriate distance from the pick-up spot. Be sure to talk to them about making sure they are visible to the driver and not approaching the bus until it has reached a complete stop.
Help your child plan and learn their route to school. If possible, travel it with them several times to create opportunities to discuss various safety hazards that may exist along the way.
Talk to your children about who they can and cannot trust when getting rides to and from school, traveling along their daily route, etc.
We Serve Families Whose Children Have Been Harmed in School Zones
Most accidents that occur in school zones are the result of negligence by at least one party, whether it be a crossing guard, a driver, a vehicle manufacturer, or someone else. As experienced personal injury attorneys, we can help you investigate your case and determine whose error, inattention, or reckless behavior caused your child's injuries or death. We may also be able to help you demand and obtain appropriate compensation for your suffering and damages.
When you call Meyerkord & Kurth for help, we promise to treat your case with the utmost compassion, discretion, and understanding. We are prepared to advocate for you and your loved ones and help you pursue the positive outcome you deserve in your case.
Get started today with a free case review by sending us a message or calling (800) 391-4318.