Last Week, our birth injury attorneys at Meyerkord & Kurth presented the United Brachial Plexus Network (UBPN) with a $16,000 check to ensure that their signature summer camp will return next year. The camp – for children and families affected by brachial plexus injury (a type of preventable birth injury) is typically held every other year. With the help and financial support of our firm, the camp will return to Missouri next year!
Anise Braggs, Camp UBPN 2014 Coordinator, and her son Cameron were present at Meyerkord & Kurth to accept the check from Steve Meyerkord, Geoff Meyerkord, Doreen Graham, and Brian Kurth. Camp UBPN will be held September 26-29, 2014 at Trout Lodge in Potosi. A team from Meyerkord & Kurth will be present at the UBPN camp.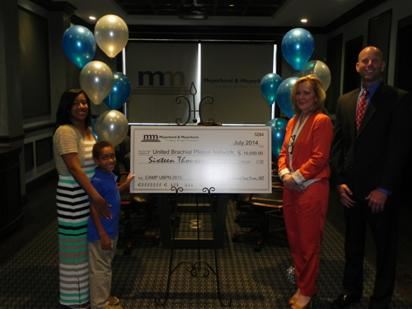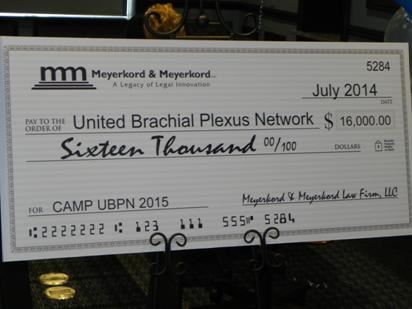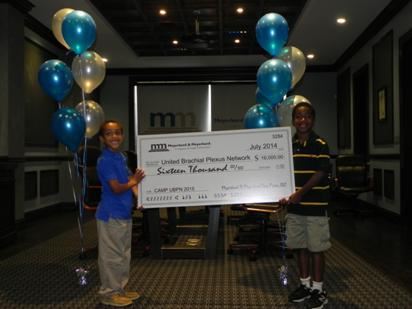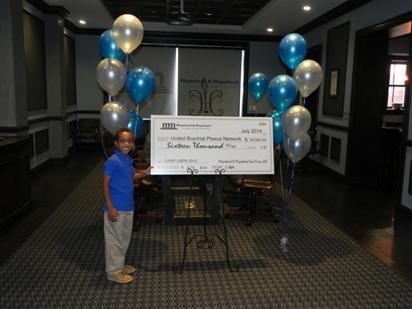 Our firm will be the 2014 and 2015 attorney sponsor for the United Brachial Plexus Networks' signature camp, which is typically held every other year. With our donation of $16,000 – $6,000 to support the 2014 camp this coming September and $10,000 for the 2015 camp – we help ensure that the camp will return to Missouri next year.
The United Brachial Plexus Network is a not-for-profit organization dedicated to its mission of providing support to families affected by brachial plexus injuries and increasing awareness and medical improvements throughout the world. Camp UBPN serves as one of the organization's leading efforts to unite and support families and expand awareness about these serious and preventable birth injuries.
Meyerkord & Kurth is thrilled to support a charitable organization that truly strives to make a difference in the lives of brachial plexus injury victims and their families, just as our firm strives to do that same for the many clients we represent, including birth injury victims. We presented a check in the amount $16,000 to UBPN board members on Tuesday, July 22 at our firm's office in St. Louis. You can learn more about our sponsorship on this press release.